Report 36 (2015-10-06):

Seems like it's time for a new round with my peers in the oil business...

Pardon the delay but now it's finally moving. The reason for this absence is mainly due to a single reason. In November last year, I sold my ramshackle Citroen while a better used car was purchased. It is a Peugeot 407 SW 06 (petrol). I tried to find as good as a Xantia but it was difficult, if not close to hopeless. Some cars were test driven: Ford, Saab, Passat etc. I also drove a C5 which I assumed was the closest one could get a Xantia - I thought, but it was a bit disappointing. Everything worked out however when I sat in the Peugeot for then appeared the feeling of perfection and therefore got this car a new owner.


Much time has elapsed because of figuring out how the car works and adapt it for various equipment such as a bike racks and an engine heater, which I put on ice until further notice. The car has less ground clearance but very high ride comfort which is good. It is quiet, has AC and something I longed for a long time: namely, cruise control. A very important detail is the analogue gauge for how much fuels left in the tank. This is extremely accurate and one can choose a reference point (the limit into the red zone) - then calculate the fuel consumption. It also has "dead end fuel rail" and just one hose from the pump to the engine, which is excellent when one want to place a little homemade tank in there - to swap the car to a "measure car" - still have to see how it will go? The ECU has I already opened and it looks nice, not so huge difference to the last and enough space for certain modifications. It's two lambda probes, an engine temperature sensor and it is a sequential fuel injection system for four injectors. However, the car consumes a little more fuel than the last but this particular problem appears no more to be a problem...

The first thing I was thinking to deal with was to manipulate the software. Thus, via OBD2 connector to download the binary file and replace it with a new better optimized file. The reason this is possible is that the ordinary software is designed for every imaginable climate and situations the car might end up in. With an update is a fine tune performed for the geographical place - taking into account, temperature variations, height above sea ​​etc. But it crapped out soon because I could not find any binary file for my car online. Those who perform this type of program improvements are sure to keep things well locked up - for there is much money in circulation when people ask for an update of the software or the so-called chip optimization. Somewhere there's probably the right stuff, though one have not been able to settle into anything yet. I actually bought a DVD plus an elm-dongle from a website calling themselves Toad (Total OBD Auto Diagnostics), an Australian company but was greatly disappointed when I got the stuff. Outdated software that only could run in XP and barely there. Most seemed not to work as promised and when I need advice, I could not post my complaint-mails on the site. Roughly where I realized that one has been screwed - well done! Its part of the game that no one really knows what is in the bag when ordering from distant places. One can always see it as a gift to a beggar or was it a ugly toad? Admittedly in the beginning was the island populated by criminals, but one can not pull everyone together... Finally I got a fairly sensible program: MPPS from uobd2.net plus a dongle which actually seems to work, however no file to my model.

Drive in the current situation on petrol and good is that. Today's E85 is pure shit ethanol as one no longer want to be aware of, but I will anyway convert the car as time goes by, and then it starts to get really interesting considering what I've cobbled together in the past.


Regarding my previous issues here and there, that something happened recently with E85 - so is that correct indeed! By chance I got the insight of a communication manager for the Swedish company Kemetyl. The Public Health Agency of Sweden has from 2011-01-01 introduced rules for how ethanol fuel must be denatured and during applicable clause must all E85 contains Isobutanol (witch is close related to IPA) with the weight of 5 grams per 1000 grams of fuel. These rules can be found on FoHMs website and is called FoHMFS 2014:10 (regulations for alcoholic preparations), paragraph 12. It is thus about paltry 0.5 % isobutanol. Have earlier read about oil companies' reluctance to inform us about what their products actually consists of, but in the light of this new framework is the hope to overcoming various ambiguities, particularly for E85. One might think that 0.5 % is a negligible quantity of any chemical, but that is not the case. A half percent is just what is required to obtain a permanent change of a fuel characteristics, for this I have noted many times. From denaturizing point of view, one could add isobutanol to make ethanol repulsive but it already contains MTBE and gasoline, so one can wonder for what reason?

Now I'm not sure if isobutanol have the same destructive power as isopropanol (IPA) has, but if so: no opening time- or consumption reduction will occur. None of my fuel additives would then work under current regulations, apart from the lubricating function. The addition of IBA must cease first. As I said, it is this additive which then makes E85 to such a crappy fuel which many already pointed out earlier, that I am almost completely sure at. But the race is not entirely over, there are methods to convert the IPA or IBA to acetone and thus neutralize the problem. This requires a lot of time and cogitation until anything will appear.

Quite near said paragraph can one read about denatured alcohol or methylated spirits (methylated spirits in Sweden is reddish) and its regulations. Some time ago was I irritated because all denatured alcohol in Sweden contains IPA. Methylated spirits, washer fluid, stove fuel and carburettor protections are basically the same thing. It contains ethanol and IPA but with different proportions, as well as some minor amounts of additives. The producers think it is good with IPA in methylated spirits because it cleans better (IPA dissolves grease better than ethanol). If you want to burn methylated spirits so should one choose a better suited alcohol category that produce less soot than IPA do. Manufacturers of methylated spirits have however great freedom to denature with what they believe is appropriate. This opening for various types in the trade and so it is.

I have also conversed with the Swedish Aspen about why they stopped produce "Aspen E" and the reason is as following: for a long time has Aspen delivering fuel to Camaro Cup and recently invested Camaro Cup in new engines. The manufacturer Chevrolet Performance had taken the step from ethanol and instead focused on the fuel - alkylate petrol. The engine LS3 was therefore adapted to petrol and thus vanish the point in continuing produce Aspen E - which one might consider as a finer version of the E85, but even this must contain 0.5 % isobutanol.

Interesting things about petrol is afoot

I

t is now established that it is iron-oleate that works together with hexamine - not ferrocene. Because of previously unclear results, I continued with new samples and it is now well understood that what causing the power enhancement is iron oleate in combination with HMTA. Iron oleate or as it also is called here: omega-Fe or ωFe.

Is the first component and is known earlier as an iron additive with lubrication functions.

Is the second component. Thus HMTA/hexamine.

Is the new fuel additive (denaturized Ethanol Carrier with hexamine) and can actually keep both hexamine and some iron salts. Hexamine is the standard ingredient but then you can choose which iron component you think is most pleasant. dEC+ is an alcoholic carrier based on ethanol but may also contain methanol - it depends on the circumstances. It appeared that the most optimal is to let A40 keep iron oleate and dEC+ hexamine. Thus, one can then bring iron oleate and hexamine in the tank on a neat manner at each filling occasion.

This combination I now call for: FeTA-fuel. A so-called portmanteau of iron and HMTA.

My fears were confirmed when I realized two years later (2017) that FeTA is not at all consumption-lowering. Probably a measuring faux pas has been on the go. Regular petrol without any additives has shown same consumption as a FeTA-charged fuel, but I'm not sure. Read later reports for more information.

The text as it was formulated 2015: "in spite of that FeTA clearly has demonstrated a reduction in fuel consumption want I raise a note of caution that others might not will notice this. I have been through similar phenomenon before: that when one discovered something so will it actually work best in the beginning, later the results become more and more mediocre. Do not ask me why... Also, I have not had the time to familiarize myself with all the mechanisms that control the events that has been demonstrated which iron oleate and dEC+. Motor fuels are also very much fabricated products and no one except the person in control can anticipate what might happen."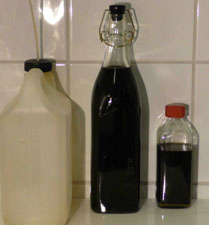 Some bottles of glass are excellent during the separation process - here A20 (1200ml).

Hexamethylenetetramine
The meaning or function that this substance possesses begins now more and more to become clear. It is hexamine that does the job i.e. the substance that leads to the consumption reduction. However, to enable it requires a catalyst which in turn depends on the fuel. Applies petrol one should use omega-Fe, is the fuel E85 should hydrogen enriched naphtha and/or glycol be used. Possibly ferrocene could be the right choice of catalyst for diesel. The question is how to get the right dose hexamine in diesel? One way is to feed a certain amount of E85 with hexamine and then use it as an additive.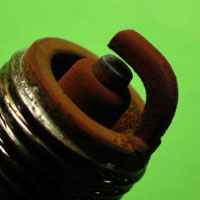 There is a risk to use ferrocene in an Otto engine and it is that the coating of iron oxide suddenly became electrically conductive. This leads to a short circuit - the spark is absent, which is noticeable when the engine starts to misfire. Then you have to loosen the spark plugs and clean them from the oxide coating. The reason is that it forms to much iron trioxide instead of iron tetra oxide. The four-fledged iron oxide is not conducting.
It should be said that I drove several mils with a high content of ferrocene before the engine start to protest. To my surprise, it did not help to clean, grind and polish the spark plugs. Although I could not see the slightest residue of any iron oxide - remained the problems with misfires. So there was only one thing left to do - purchasing new spark plugs. So the advice I can give is: do NOT use ferrocene if you have a Otto!

Iron bensoate or i¤b is a new iron additive I suppose will work with E85. Has unfortunately not been able to exhaust all possibilities of combination with iron benzoate yet.
One fuel additives that contains ferrocene is STP Power Booster from Halfords.
Much has undergone changes due to to the oleate, dEC+ and the ferrocene - for it shows when one surfing around among the fuel additives.
One might think that someone should have developed a patent on this about FeTA, but so far is nothing. Until further you will have content yourself with my undistributed goodies - for it must be well enough for a while? Will soon show up here again as I am concerned.